Race day is Sunday, July 9.
Registration

Priority registration opens Monday, January 9 at 10 a.m. and runs through Tuesday, January 31 at 11:59 p.m.
Open registration begins Wednesday, February 1 at 10 a.m. until race caps are met or until Tuesday, July 4, 2023.

Race Caps:

15K presented by Excellus BlueCross Blue Shield: 8,500
5K presented by Utica National: 3,500
Boilermaker Walk: 1,000

Course Detour

Construction on lower Champlin Ave
2023 Event Only

Volunteer Registration is open now
UTICA- Officials from the Boilermaker Road Race unveiled the new race logo and announced that this year's races will be run on Sunday, July 9, 2023. Priority registration will open at 10 a.m. on Monday, Jan. 9 via the race's website www.boilermaker.com.
Runners who registered for any of the 2022 races, including the virtual events, are eligible to register during the priority registration period, which ends Tuesday, Jan. 31 at 11:59 p.m. Open registration begins Wednesday, Feb. 1 at 10 a.m. and will remain open until Tuesday, July 4, 2023, at 11:59 p.m. or until the races reach capacity.
"After such a tremendous Boilermaker experience this past July with spectacular weather and a new course record, we are excited to announce our plans for the 46th running of the Boilermaker," said Boilermaker president, Mark Donovan.
This year's race plans reflect changes to the timing of race registration, reduced race caps and a slight course detour.
The 15K race presented by Excellus BlueCross BlueShield will have a capacity of 8,500, including the return of professional runners and wheelchair athletes. The 5K race presented by Utica National will have a capacity of 3,500.
"We are moving up our registration launch dates from early March to early January in order to provide ample time to make informed purchasing decisions for all of our race-based supplies," Donovan explained. "In terms of our race caps, as our industry continues along its road to full recovery, we must take great care to ensure that our caps are aligned with where the market is."
Road construction along Champlin Ave between Caroline St. and Whitesboro St. in Yorkville will slightly alter the race course. Near the eight mile mark of the race, runners will turn right onto Caroline St. and then left onto Kellogg Ave. in Yorkville before turning onto Whitesboro St. for the traditional final stretch and finish line. Each of the start lines will be moved back slightly to compensate for the difference in distance. Registration for the walk will open on Wednesday, Feb. 1 at 10 a.m.
"While we hate to make any changes to our beloved course, this year's change should be seamless for both runners and spectators," said Boilermaker Race Director, Jim Stasaitis. "We will have the course recertified prior to race day to ensure that this one-time change doesn't impact any records which may be achieved in the race."
This year's Boilermaker week will once again feature multiple community-minded events and challenges. The week begins with the City of Utica Youth Bureau and Boilermaker Youth Olympics presented by Bank of America. The Boilermaker Kids Run, presented by Utica National and the Boilermaker Walk will both take place at Mohawk Valley Community College (MVCC), Saturday, July 8.
Additionally, the Boilermaker Charity Bib Program, presented by Wolfspeed, allows participants to fundraise on behalf of a local non-profit organization to receive race bibs in return in exchange for their fundraising efforts on behalf of local non-profit organizations.
Donovan also gave kudos to the many corporate sponsors for their role in supporting the organization's events and community outreach efforts. "From our founding sponsors Utica Boilers and Saranac, to our supporting sponsors and everyone in between, this organization is absolutely blessed to have such a supportive business community," he said.
2023's Boilermaker events will also include several team and individual challenges, including the Corporate Cup presented by Excellus BlueCross BlueShield, the High School Challenge, the Bob Ingalls Police-Fire Competition and the Wheelchair Challenge sponsored by Sitrin Healthcare.
"The various challenges provide the opportunity of having a race within the race and add a special element of intrigue and competition both for our wheelchair athletes and our various community institutions," explained Stasaitis. "While road racing is typically an individual event, the challenges represent an opportunity for teamwork, camaraderie and friendly competition."
The Access program presented by Wolfspeed, which offers race bibs, running shoes with the support of The Sneaker Store, and support for first-time runners in underprivileged and underserved communities, returns for its second year. Details on the program can also be found on boilermaker.com.
The Boilermaker Health and Wellness Expo presented by Mohawk Valley Health System will take place at the Utica Campus of MVCC for Boilermaker weekend. The expo will be open on Friday, July 7 from noon to 7 p.m., and Saturday, July 8 from 8 a.m. to 4:30 p.m. In addition to packet pickup, the expo features healthy living information, vendors and more.
The Saranac post-race party will be open to runners and spectators from 8 a.m. to 12 p.m., providing plenty of time to celebrate after the events.
"The communion of runners and non-runners alike on the second Sunday in July is a big part of what makes the Boilermaker so much more than just a race," said Donovan. "We are pleased to be able to once again unite our community and celebrate our runners' achievements and showcase our city to the world."
Stasaitis also took the time to thank the thousands of community members who volunteer at various events throughout the week. "Each year I am blown away by the sheer number of people who take time out of their lives to help make our event a success, as well as the support of our volunteer presenting sponsor The Fountainhead Group," he said. "We've made it easier than ever for people to sign up through our website's volunteer page which is already active and accepting applications."
For more information on Boilermaker Weekend, including event details, volunteer opportunities and registration links, please visit www.boilermaker.com.
####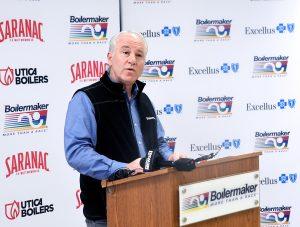 RACE PLANS ANNOUNCED… Boilermaker President Mark Donovan announces the plans for the 2023 Boilermaker Road Race this morning. The 46th edition of the Boilermaker will be held on Sunday, July 9, 2023. Priority registration opens on January 9 for those who registered for last year's races, and open registration begins on Feb. 1.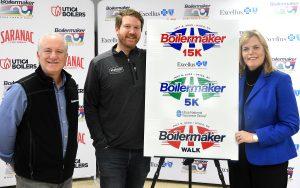 LOGO UNVEILING… The Boilermaker Road Race unveiled the 2023 race logos at a press conference this morning. The logos were designed by McGrogan Design for the fifth consecutive year. From left: Mark Donovan, president of the Boilermaker Road Race, Ryan McGrogan, owner of McGrogan Design and Eve Van de Wal, regional president at Excellus BCBS, presenting sponsor of the Boilermaker 15K Road Race.