Race information
Date:
Sunday, July 14, 2024
---
Start Time:
7:45am
---
Distance:
15K (9.3 miles)
Race information
Date:
Sunday, July 14, 2024
---
Start Time:
7:45am
---
Distance:
15K (9.3 miles)
The Boilermaker's Wheelchair Division has grown into one of the largest and most competitive fields in the country which is a testament to the hard work of our amazing wheelchair athlete-focused volunteer team.
Athletes will experience the world-renowned 15K, recognized for its fun and challenging course, and its post-race party at the F.X. Matt Brewing Company.
With ample water stops, strong attention to medical detail, and crowd support that is like no other race, the Boilermaker 15K is an event not to be missed.
2024 Boilermaker Registration Details
Thousands took advantage of early registration opportunities in 2023, but we know many are looking forward to our Priority and General registration periods in early 2024.
Traditional registration periods are anticipated to begin in January & February of 2024.
Stay tuned to your email, social media (Facebook & Instagram), and our website for more details coming in early December!
Sitrin Wheelchair Challenge
The Sitrin Wheelchair Challenge program provides a racing wheelchair to the program participant that can complete the Boilermaker 15K in 2 hours and 15 minutes or less. Since 1997, 35 racing wheelchairs have been awarded to the Challengers. Program participants are chosen though an application process. Typically one chair is awarded per year. Applicants not chosen to be the Challenger can still participate in the race, but are not eligible to win the racing chair. Winners of the racing chair are not eligible to win prize money.
Date:
Sunday, July 14th, 2024
Start Time:
7:45 a.m.
Packet Pickup:
The Boilermaker's Health & Wellness Expo presented by MVHS
MVCC Utica Campus, 1101 Sherman Drive, Utica, NY 13501
Friday, July 12th: Noon to 7:00pm & Saturday, July 13th: 8:00am to 4:30pm
Start Location:
Culver Ave. near Beechgrove Pl. Utica, NY
Finish Location:
Court St. at Varick St. Utica, NY
Distance & Course:
The course is 15 kilometers (9.3 miles) USATF recertified in 2023. The course is marked in miles with ample official water and aid stations. Streets are closed to traffic for 2 hours 30 minutes.
Safety:
The course is restricted to registered runners and official race personnel. Walkers, dogs, skateboards, in-line skates, roller skates, bicycles, and baby joggers/strollers are prohibited. We strongly discourage the use of headphones.
Now Part of the Rolling Thunder Triple Crown Series!
New for 2023, the Boilermak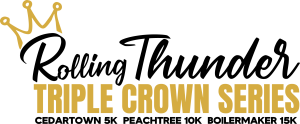 er Wheelchair 15K is part of the Rolling Thunder Triple Crown Series. The series is a three-event point-based system for all levels: men/women in the open, quad, masters, and grandmasters divisions. The purpose of the TCS is to help develop and grow the sport of wheelchair racing, providing a more competitive atmosphere for elite and up-and-coming wheelchair racers. For more information, visit this link.
Registration in each individual event (Peachtree, Cedartown, and Boilermaker) will automatically qualify athletes for the Triple Crown Series; there is no separate registration process for the Triple Crown.