Work Recreates Iconic Scenes from the Race Course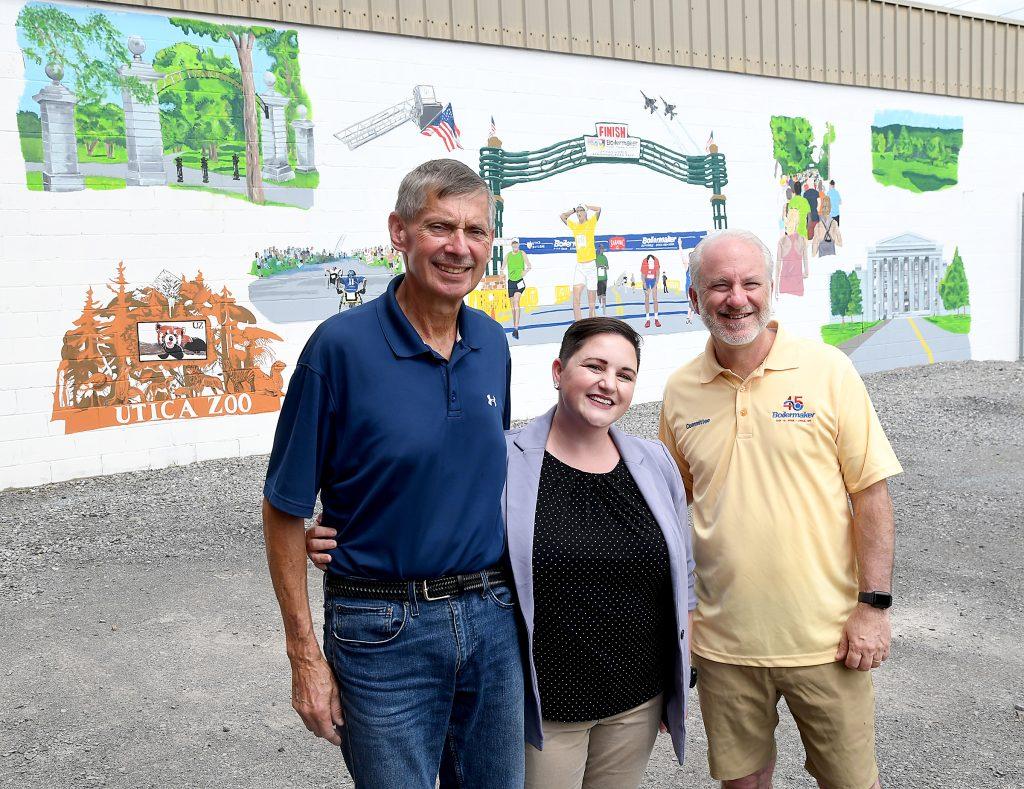 July 26, 2022
Officials from the Boilermaker Road Race revealed a 50-foot mural featuring seven distinct scenes from the iconic 15K race Tuesday afternoon. The mural, which was completed by local artist and runner Rachel Olson, is located on the south side of the Boilermaker corporate office at 805 Court St. in Utica.
Olson, who ran the Boilermaker for the first time in 2018 as part of the WKTV Go The Distance (GTD) program, started the project after being approached by local running legend Joseph Wilczynski at a meeting of the Mohawk Valley Hill Striders.
"I am a member of the Hill Striders board," she explained. "Joe, who was the president at the time, approached the board with the idea of painting a mural. He was familiar with my work from Munson-Williams sidewalk shows and from commissions I'd done for other members and asked if I would create a design."
Wilczynski, who has completed each of the 45 annual 15K races, wanted to bring the previously unpainted wall to life. "Every time I run the race and train on the course, there is at least one portion of the course which sticks with me," he explained. "I always tell the GTD runners that they're not just running on asphalt, there's so much to see out on the course."
After consulting with Wilczynski and polling members of the running club through social media, Olson narrowed down the scenes to seven, including everything from the wheelchair division to the Utica Zoo sign and the iconic finish line arch. She began sketching the design on the wall June 6, painting on June 11 and finished July 9, hours before the race began. In all, she estimates over 150 hours were spent painting the wall.
"The first day I mixed colors. I spent 11 hours just painting shirts," she recalled. "The next day, I spent seven hours just painting flesh."
Olson, who worked through the heat and humidity of the early summer to get things done on time, has her own special connection to the race, and to Wilczynski. "The Boilermaker is a dream realized," she said. "Running has changed my life in every way possible: physically, mentally, socially, and emotionally and Joe was the driving force behind my running journey."
Olson did have help completing the work along the way. "I want to send a thank you to the volunteers," she adds. "My dad and future mother-in-law Robin joined with some of the members of the Mohawk Valley Hill Striders to help me get it done."
A self-taught artist, Olson teaches seventh-grade English Language Arts (ELA) at Frankfort-Schuyler Middle School. This is the first work of this size that she has attempted. "Even though I thought I would feel overwhelmed, I found I loved working on this scale," she said.
For Wilczynski, seeing the finished work was a bit emotional. "I guess I feel like part of myself is on that wall," he said. "I encourage everyone to not just drive by it but to stop and take a look. There is so much detail and heart that went into it."